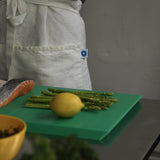 Green Veark CB - Chopping Boards
Description

Updated classic industrial chopping board with new smart mirror grip design.


Practical: tilted sides in alternating directions. No matter how you flip it, there's always two sides tilting outwards to form a nice grip to lift the board.

The Veark cutting boards are made from high-density polyethylene 500. A material that is ideal for cutting boards due to its great cut resistance and food grade conformity.

Knife and board will last longer.

Excellent anti-microbial protection
Dishwasher safe
FDA - conform
EU1935/2004 - conform
EU10/2011 - conform
HD-PE 500

Comes in 3 different sizes 

Small - 21 x 30 x 1,7 cm
Medium - 44 x 21 x 1,7 cm
Large - 44 x 30 x 1,7 cm

 Colour

Designed by Berlin-based designer Jule Witte.


Made in PRC
The material

The polyethylene 500 material is ideal for cutting boards due to its great cut resistance and food grade conformity.

But because it is raw and soft in the surface, it will easily scratch and may also be upon arrival. But this doesn't take anything from the performance. After using and washing it a few times, the scratches will create a natural patina and last a long time.
Care

The chopping boards are highly durable and dishwasher safe – but they don't tolerate exposure to +80°C over a longer period as they might warp.
Shipping

We are working closely with our external partners and carriers to ensure your Veark products can reach you as quickly as possible. See below for the most up-to-date information:

Estimated Shipping Time:

Denmark: 1-3 business days
Germany: 2-4 business days
Rest of Europe: 3-5 business days

United States: Standard: 5-7 business days
Canada: Standard: 5-7 business days
United Kingdom: 3-5 business days
Rest of World: 5-7 business days

Green Veark CB - Chopping Boards